On November 8th, 2017, the colorful 18th China (Nanan) Shuitou International Stone Fair officially held under the focus of exhibitors from over 20 countries and regions. With the theme of "Interconnection, Sharing, Innovation and Excellence", this stone expo highlights the new achievements in the transformation and upgrading of the stone industry and delivers new ideas for the development of the stone industry in the international market, highlighting the interactive exchanges , open sharing, innovative intellectual charming of the show.
As a high-tech enterprise focusing on R&D and manufacturing of grinding mill equipment, Guilin Hong Cheng profoundly understand the development theme of this stone expo, and delivers the latest milling technology and equipment that are professionally used in the non-metallic mineral milling industry to the exhibitors from all over the world, the carrying HLMX1100 artificial ultrafine vertical mill has become the focusing star of this stone fair.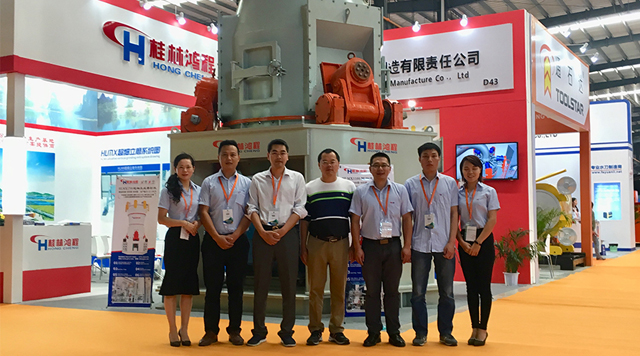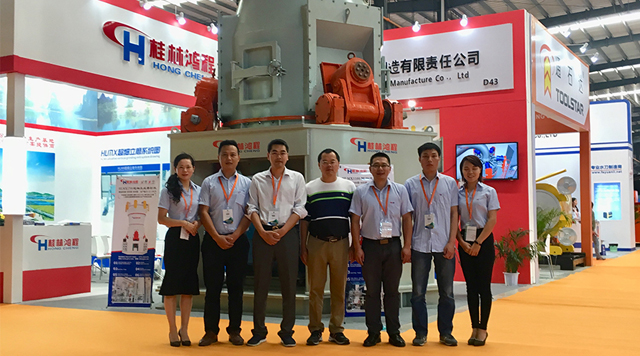 As a non-metallic mineral equipment manufacturing high-tech enterprises, Guilin Hong Cheng has accumulated rich experience in calcium carbonate, calcite, artificial stone, limestone and other non-metallic mineral milling field, focusing on calcium carbonate mill, calcite mill, artificial stone production line and other advanced equipment research and development and manufacturing, Hong Cheng exclusive artificial stone production line is high quality, high grinding efficiency, fine classifying accuracy, low noise, stable performance, energy saving and environmental protection, is high-quality milling equipment to promote the creation of the stone field to gain greater market value.
HLMX artificial post-mortem ultrafine vertical mill production line is a large-scale pulverizing equipment which is made by innovating and making breakthroughs in the traditional milling machine ultrafine powder processing technology, drawing on the technology of Taiwan and Germany and having the advantages of high output, high efficiency, cleanliness, environmental protection, etc. Among them, HLMX1700 ultrafine vertical mill is the world's largest ultrafine vertical mill equipment, widely used in the manufacture of artificial stone.
HLMX artificial stone ultrafine vertical mill product fineness can be adjusted between 325-1250mesh, the output can reach up to 20t/h, secondary classification system configuration, classifying is more efficient, effective separate coarse from fine powder, sorting fineness up to 2,500 mesh, small vibration, low noise, easy maintenance, low operating costs, less product pollution, uniform particle shape, narrow particle size distribution, more stable quality, 24 hours continuous production, all makes it the ideal equipment to meet the artificial stone large-scale ultrafine production.