In 16/11/2017, the lime association representatives came to intend the technological exchanges and cooperation conference, at half past eight, the grand Lime Industrial Technology Exchange Conference officially held. As the conference co-organizers---Guilin Hong Cheng warmly welcome delegates coming, and congratulations to 2017 China lime industry and technological exchanges and cooperation with great successful!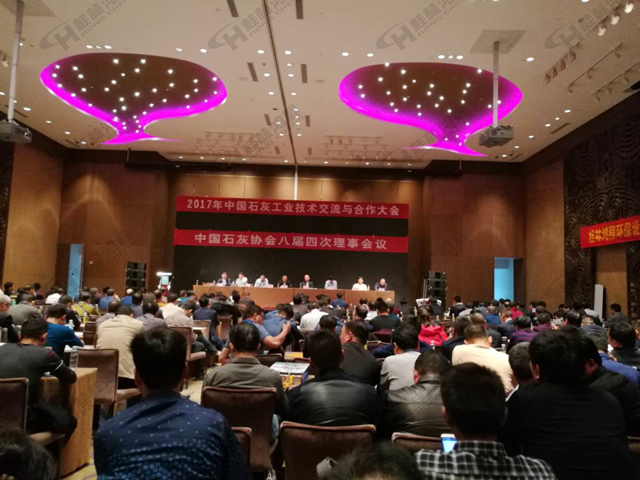 It is understood that the main agenda of the conference are: " The four Council work report of China lime Association of the eight session ", "review Chinese lime Association 2017 annual financial report", decided to consider other important matters, China lime association secretary general Yin Baoming at the meeting made a speech entitled "To write a new chapter in the development of lime green with the industrial structure adjustment -- The four Council work report of China lime Association of the eight session", and stressed that, lime industry is experienced a baptism that it never had before since entering the new economic norm, in a new round of environmental remediation and structural adjustment, the Association will not forget the original intention, remember our mission, and actively promote the green development of industrial lime and lime industry leading technology. Industry Association will comprehensively implement the spirit of nineteen, set up new ideas, combined with the lime industry development opportunity, firmly grasp the lime green industrial development and structural adjustment of the two major contradictions, and actively explore the development of a new situation in building industry association.
With the advancement of the meeting, Congress officially entered the stage of technical exchanges, China lime association secretary general Yin Baoming made a speech at the opening ceremony, encouraged everyone to continue to strengthen guidance, coordination and service functions, improve the governance structure of the industry, enhance the governance capacity of lime industry and Industry Association, make the association self-construction to a new level, and wished the conference a success. As a co-sponsor, President of Guilin Hong Cheng, Rong Beiguo published his welcome speech, thanks to the industry association and lime enterprise colleagues to visit Guilin and participate in the conference, and express our sincere greetings and warm welcome to all the old and new guests and friends, I hope you made greater efforts and contribution to enterprise technological progress and the transformation and upgrading of lime industry.
With warm applause, association report closely related development and innovation, technology development and application of calcium hydroxide and ash content processing technology of lime powder, a lot of lime companies launched a warm discussion for the development and application of lime products deep processing and comprehensive utilization technology of lime, kiln technology development and the results of application, to open a new journey of lime industry development, to build up the confidence and write a new chapter in lime green industry development and structure adjustment.